Waubetek is committed to "Investing in the Aboriginal Business Spirit". In keeping with our vision, Waubetek presents educational bursaries of $500.00 each to applicants who fulfill the following required criteria.
* Must be a registered member of one of the 27 partnering First Nations communities in the Waubetek service area (a copy of First Nation status card is required as proof)
* Must provide a letter of support from Aboriginal owned business OR a Professor/Instructor
* Proof of enrollment in a full-time Business, Accounting or Economic degree or diploma program (Copy of most recent transcript required)
* Must provide a minimum 300 word Essay
* Must provide a completed application form
* Must submit a head shot photo of yourself
Two ways to submit your application and supporting documents.
1) Mail or Courier
Waubetek Business Development Corporation
c/o Youth Committee
6 Rainbow Valley Road, P.O. Box 209
Birch Island, ON P0P 1A0
2) Email: waubetek@waubetek.com
Questions?
Contact Waubetek Business Development Corporation at 705-285-4275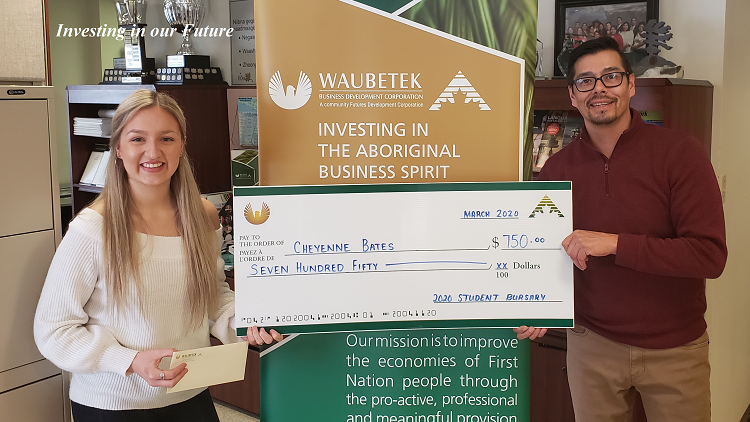 Congratulations to the 2020 Waubetek Student Bursary recipients: Edie Assinewe, Cheyenne Bates, Chris Behan, Chelsea Brunelle, Michael Cimino, Zonya Jacobs, Bryanna Jackson-Ominika, Conrad Naponse, Alyssa Paul, and Callum Roque. From the Waubetek Board and staff, we wish all of you continued success in your post-secondary education and career development.