Business Services
Waubetek currently delivers the following services:
Commercial Loans as a Community Futures Development Corporation and as an Aboriginal Financial Institution
Business counselling and support to individuals and communities in the areas of starting or expanding a business, community development, proposal development, joint venture development or access to financing
Regional Economic Services in collaboration with our member First Nations to focus our sector strategies (i.e. Fisheries, Mining, Aquaculture, Tourism)
Business Awards Gala
Waubetek hosts a Business Awards Gala every two years to pay tribute to the accomplishments of Aboriginal businesses in North-Eastern Ontario. Waubetek is extremely proud to take the time to honour the achievements and hard work of many Aboriginal businesses who have overcome challenges and barriers to create businesses within Waubetek's service region. In addition to recognizing the achievements of four businesses, the event includes a program of Aboriginal music performances showcasing local talent. The evening provides an opportunity to network with successful entrepreneurs and community organizations, also to celebrate the hard work and dedication of our community members and most of all, it is a fun and enjoyable evening.
Annual Charity Golf Classic
The Annual Waubetek Charity Golf Classic is held in August at the Rainbow Ridge Golf Course on Manitoulin Island. There are three divisions, Men's, Woman's and Mixed. The money raised is through the Student Bursary Fund.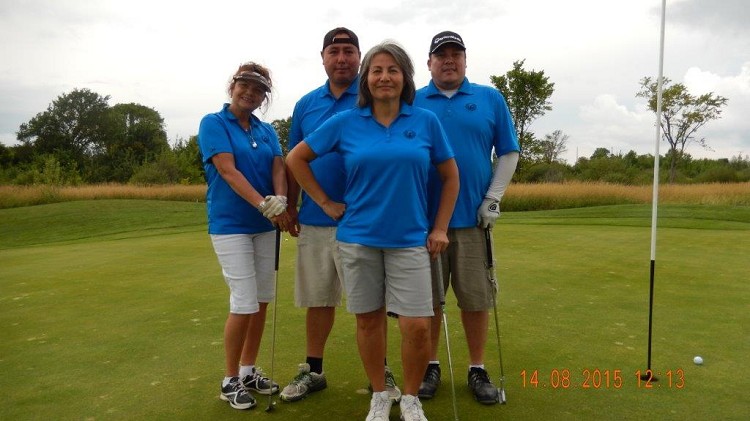 Student Bursary Fund
Each year Waubetek hosts a Charity Golf Classic to raise funds for our Aboriginal Post Secondary Student Bursary Fund. Post-secondary students attending a business related program of study are selected to receive a bursary of $500 each.
For more information on the Student Bursary Fund, click here.
2020 Recipients:
Past Recipients
2019: Ruby Panamick, Quinn Meawasige, Zonya Jacobs, Conrad Naponse, Michael Cimino, Bryanna Ominika Jackson
2018: Andrew A. Manitowabi, Ruby Panamick, Zonya Jacobs, Martha Wabegijig, Quinn Meawasige
2017: Tracy Manitowabi, Rayburn Misquadis, Joshua McGregor, Jamie Manitowabi, Ruby Panamick, Andrew A. Manitowabi
2016: Jamie Manitowabi, Quinn Meawasige, Ruby Panamick, Angel Peltier, Janet Restoule, Ian Trudeau
2015: Natalie Shawana-Waboose, Jolene Recollet, Adam Restoule, Katrina Owl
Economic Development Officers Session
Each year, Waubetek invites the Economic Development Officers within our service area to participate in an annual networking session. This session allows us to bring together the economic development practitioners to share information and learn of various examples of other economic initiatives and determine ways in which to support Aboriginal business development in their communities.
Part of the session includes concurrent workshops that touch on various topics such as Proposal Writing, Board Governance, Business Opportunities and Project Management to name a few.